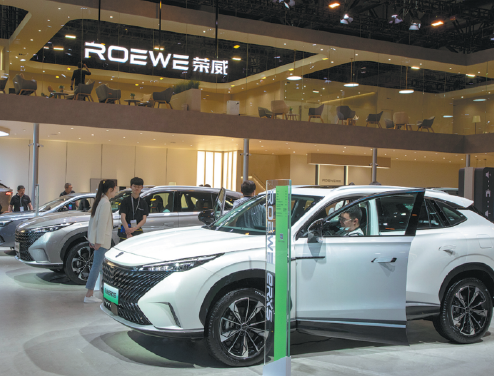 SAIC's Roewe brand showcases its models at the 2023 Shanghai auto show in April.
After achieving high single-digit growth through the first eight months, 2023's vehicle sales in China are expected to rise by at least 3 percent year-on-year, according to the country's top industry association.
Xu Haidong, vice-chief engineer of the China Association of Automobile Manufacturers, said at the association's monthly media conference last week that the market is doing a "great job" and the commercial vehicle sector is rebounding.
"Our sales for the whole year are expected to see a 3 percent rise year-on-year, or even better than that," said Xu, adding that CAAM data shows August sales rose 8.4 percent year-on-year to 2.58 million units and both sales and output reversed July declines as pro-consumption government policies took effect.
From January to August, nationwide vehicle production and sales rose by 7.4 percent and 8 percent respectively, generally on par with the growth observed in the first seven months.
China is aiming to bring this year's vehicle sales to about 27 million units, which would represent an increase of 3 percent over the 2022 level, according to a work plan unveiled earlier this month by the Ministry of Industry and Information Technology and six other government departments.
For new energy vehicles, the country is targeting annual sales of around 9 million units, or a 30 percent rise year-on-year. The plan recommends that all existing supportive policies for NEV sales and use should remain in place and no further restrictions should be placed on gasoline-powered vehicle purchases.
In August, Geely Automobile sold 152,626 vehicles, marking a month-on-month rise of 10 percent and a year-on-year jump of 24 percent. Notably, the company's NEV segment contributed significantly to those figures with 47,299 units sold, accounting for almost one-third of the total.
Great Wall Motor, China's largest SUV and pickup truck manufacturer, sold 114,100 vehicles last month — up 29.32 percent year-on-year — and its five marques, including Haval and Wey, all saw an increase in deliveries.
Haval seized the lion's share of the sales in August with 66,523 units, up 31.99 percent year-on-year, while GWM's total sales from January to August numbered 742,400 units, up 4.76 percent year-on-year.
Tesla sold 64,694 cars in China in August, while deliveries of its China-made Model Y hit 65,316 last month to top the list of passenger vehicle models available in the domestic market, according to the China Passenger Car Association.
BYD, China's largest NEV maker, saw its August sales hit a record 274,386 units, according to a Hong Kong Stock Exchange announcement.
That represents a 56.87 percent rise year-on-year and a 4.66 percent increase from July. BYD ceased production of vehicles powered entirely by internal combustion engines in March last year in order to focus on plug-in hybrids and pure electric vehicles.
Meanwhile, Chinese automakers are gaining a larger share of overseas markets, particularly in Southeast Asia and the Middle East.
According to the Israel Vehicle Importers Association, Chinese brands topped the country's electric vehicle sales in the first eight months of 2023, led by BYD. With 12,168 units sold — mainly the subcompact crossover SUV Atto 3 — BYD moved up one position to fourth place in Israel's overall car sales rankings, which include both gasoline and electric cars.
Geely sold a total of 5,581 Geometry C compact crossovers in the same period, holding second place in EV sales in Israel. Tesla stood in third place with 4,948 electric cars sold, followed by South Korea's Hyundai with 3,879.
Along with Israel, Thailand is emerging as an important market for Chinese automakers, including BYD, GWM and Aion.
GWM saw its overseas sales reach a record high last month, with 30,741 vehicles purchased outside of China — a 99.95 percent increase year-on-year. August marked the sixth consecutive month GWM's overseas sales exceeded 20,000 units, while its overseas sales from January to August totaled 181,678 units, up 95.55 percent year-on-year.
In the work plan released by the Ministry of Industry and Information Technology, China's automakers are encouraged to develop and produce products for the international market and increase efforts to explore markets in Belt and Road countries and emerging economies.
lifusheng@chinadaily.com.cn